The Rainbow Diet – the healthiest diet in the world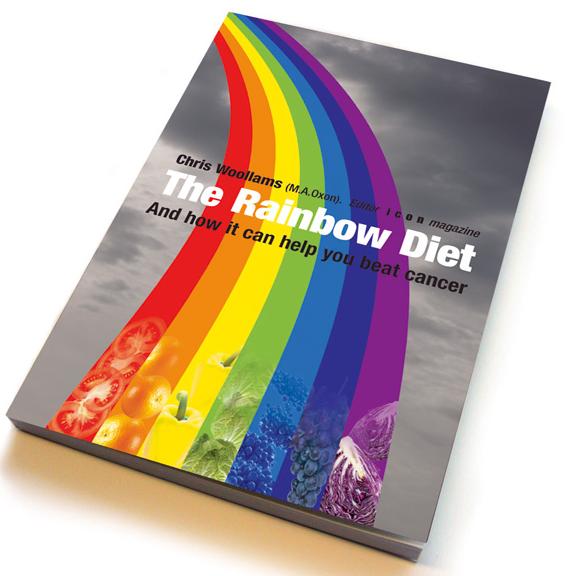 "The Rainbow diet is a book about how to beat cancer, although, I'm sure it works just as well as a general health book. It offers a detailed anti-cancer diet and a cancer nutrition programme including a practical shopping list with all the tips you could want. But more than that, it is really easy to read and bring to your daily life. It is simply years ahead of any other cancer diet book".
                                                                               (Susan, Liverpool, England)
1. The Rainbow Diet – and how it helps fight cancer
This powerful Rainbow Diet Book is based on both the colourful Mediterranean diet and the French Paradox. It's the one real diet that is supported by research, time and time again. Indeed, there is more quality research – real life and laboratory research – behind this diet than all the others put together. Fact.
It's a common but dangerous mistake to think it is just about colourful vegetables – it is also about fat, types of fat, carbohydrates and types of carbohydrate that are good or bad for you.
Every year we update the book as more research comes out. Research on
* cancer prevention;
* on preventing chronic illnesses;
* on increasing cancer survival times.
In 2017 we launched not only the updated latest edition of this best-seller 'The Rainbow Diet and how it can help you beat cancer' but a Rainbow Diet recipe book – 'Rainbow Recipes' as well.
 "The Rainbow Diet is the best health book on diet I have ever read. You may think you know all about the colourful Mediterranean Diet; you may think there's information all about it on the Web. I was shocked. This book dispelled the myths and went so much further. But it's a really easy read. And it even gives you a shopping list with points. This is a really brilliant book. Every home should have a copy. It's an investment in health."                                                       
                                                                                 (Diane, San Francisco)
Over the last decade or more, the original theory (that there were foods that could not just Protect  you from cancer but could actually Correct  you if you had it) has been shown time and time again in research to be true.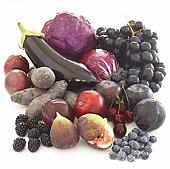 Research showed that people, who adhered most closely to the diet across a 15 year study, wherever they were in the world, prevented 11 major and chronic illnesses attacking their bodies and had a 40% higher chance of reaching the age of 70.
And there are 8 studies showing, for example in people with cancer, that the Rainbow diet increases survival significantly.
On the very day the first edition of the book went to print, the prestigious British Journal of Cancer reported a new Harvard Medical School study with the headline 'Mediterranean Diet cuts cancer risk'.
Since that time there has been an explosion in research supporting 'The Colourful Mediterranean Diet' with cancer. For example, Harvard Medical School and UCLA have both produced studies detailing that: 'the colourful Mediterranean Diet can prevent a cancer returning'.
There are even Professors and Oncologists who tell their patients that changing their diet will not make a jot of difference once they have cancer. They are totally wrong. For example, one study shows that, with a healthy diet, stage III cancer patients could reduce risk of cancer returning by 31% and reduce death by 42% across the following seven years – do they have drugs that can deliver those sorts of figures? 
And so we have compiled a Rainbow Diet research Centre. There are a lot of research studies in it! Not just on cancer, but on Alzheimer's, diabetes, cardiovascular disease, Parkinson's, strokes and much, much more.
Go To: The Rainbow Diet Research Centre – latest news 
If you want to buy the book – Please Note – we do not supply retailers, for example, Amazon. The CHEAPEST way of buying the Rainbow Diet book, and Rainbow Recipes is direct – through our Charity Distributors … …
Go HERE to: BUY NOW at CHEAPEST PRICES: (USA/Canada, Australia, Europe).
2. The Rainbow Diet Book tells you what fat, carbohydrates, protein and colour you should eat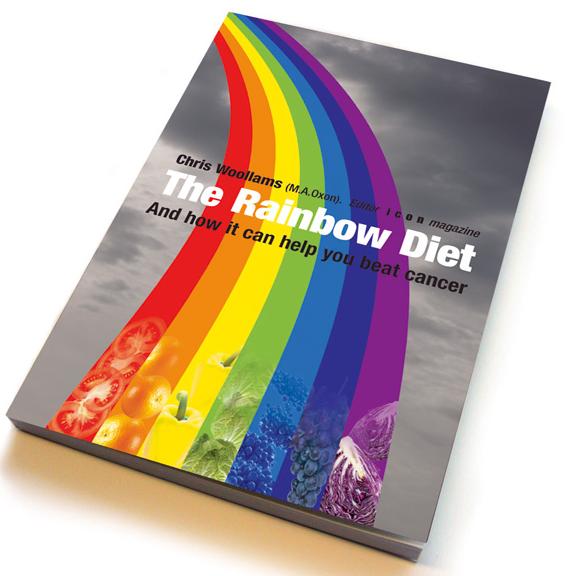 Some people think a Rainbow Diet is just about eating lots of colourful vegetables and fruits. WRONG!!
Lots of fruit can give cancer patients too much sugar, and this simplicity also ignores the role that fats and carbohydrates play in cancer, heart disease and other chronic illnesses. For example, while there is clear research that 'bad fat' consumption is NOT linked to increased cardiovascular risk, there is clear research that it can HELP CANCER SPREAD.
And therefore this book is not as trivial as juicing a few vegetables and fruits.  It reviews the research facts on food and many of the supposed anti-cancer diets in an easy to understand way, to help people build a cancer diet that can help prevent, and also correct.
"I've been involved with health and healing issues for nearly forty years. Every word of Chris's book rang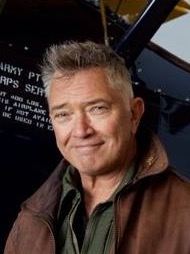 true, and I'm convinced that the ideas in it are a powerful and effective way to optimum health. Anyone suffering from ill health or disease will find it a life-enhancing experience." (British actor, and natural health follower, Martin Shaw)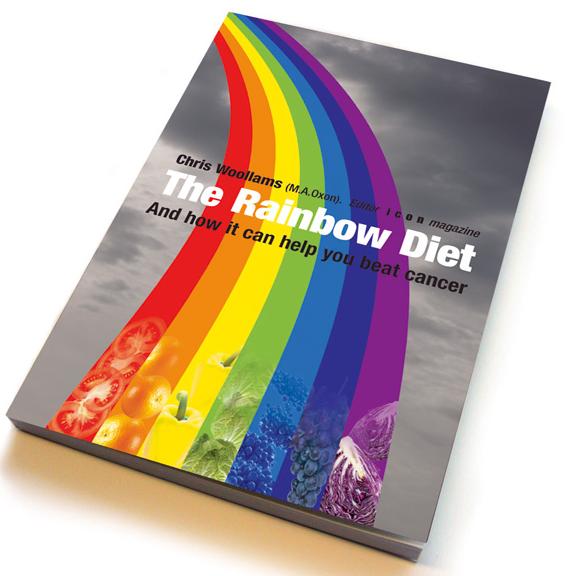 Chris Woollams, who compiled the book for CANCERactive says, 'More than a decade of study and all the research from Harvard, UCLA and other top medical centres has gone into the latest updated edition of 'The Rainbow Diet – and how it can help you beat cancer'. In the book I look at the research available on various cancer prevention diets, and then I look into their relevance if you already have cancer. But don't forget the French Paradox – it's the ingredient the Health Authorities have ignored for 35 years but it's the clue to better health; or the new science of Epigentics, providing solid research that natural compounds can correct diseases like cancer. 
*** BUY HERE: CHEAPER THAN AMAZON : Order the Rainbow Diet, NOW!! ***
3. The Rainbow Diet Meal Plan?
This book tells you: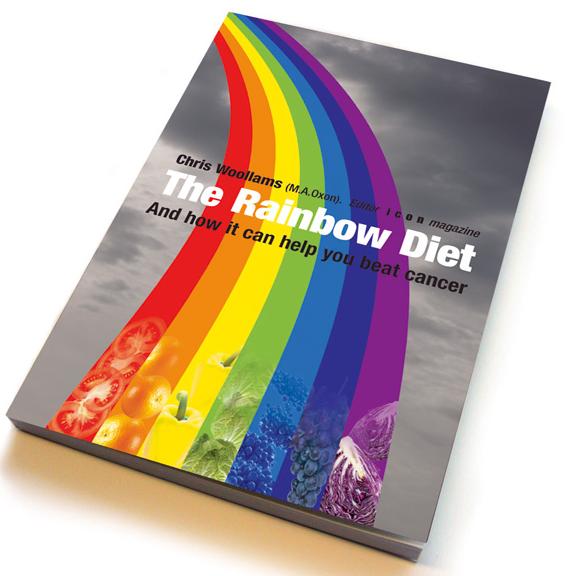 * What foods to have on your shopping list with a points score to check your meals with every week. We even include a shopping list!
* What you can do about your diet – starting today
* Why other diets fall short – and you are wasting your time with them
* How carbohydrates may be damaging your health
   * How good fat can help fight illness and cancer
   * Which bad fats you must avoid or they could spread cancer
   * The Truth about dark chocolate, red wine, coffee and soy
   * Which bioactive natural compounds can you add to your diet to actively fight cancer
   * Which minerals are helpful and which feed cancer
   * How lifestyle factors like sunshine and exercise interact with your diet
   * How to control inflammation in your body
   * Which natural compounds in which foods best boost your immune system
   * Which compounds in which foods can actually improve the success of radiotherapy and chemotherapy
   * Natural herbs that fight yeast and fungal infections in real life
4. The real Rainbow Diet could change your life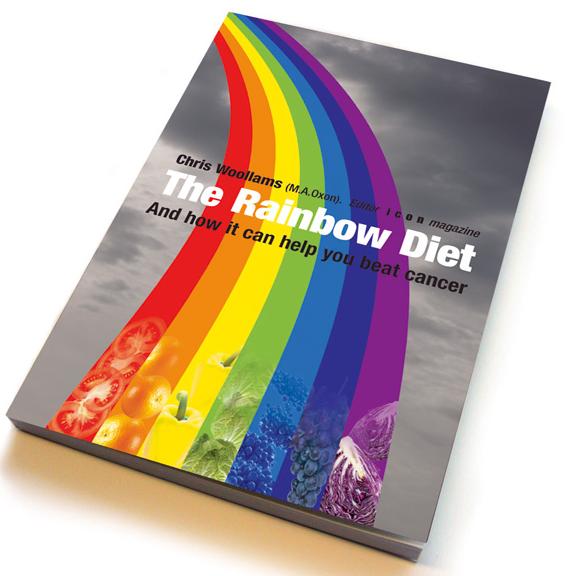 You can change your life today; you can build the 'new you'.  This book gives you the answers and much, much more'.

Cheapest Prices Guaranteed: Order your copy of The Rainbow Diet in the UK, America, Australia NOW!

GO to:  RAINBOW RECIPES, the book
GO to: Rainbow Diet Research Centre