Here are two Rainbow Recipes using the health benefits of Flaxseed – it's fibre and short-chain omega-3 – Flaxseed Cookies and Flaxseed Green Tea Muffins.
Barbara Cox, the Rainbow Chef, is passionate about food and the benefits people get from eating a healthy, well-balanced diet and here she looks at how you can use Flaxseed, an important source of fibre and short-chain omega 3, in cooking.
What is Flax?
Flax, or flaxseed, also known as Linseed, is an annual plant found originally in India but now grown worldwide. It grows to just over a metre tall and produces true blue flowers and dry fruit capsules that each contain several glossy, brown, apple-pip-shaped seeds 4-7mm long. Flax is grown for its seeds and fibre and has been used over the centuries in the manufacture of a myriad of products including fabric, dye, varnish, paper, medicines, soap and fishing nets!
There are two varieties of flax seed: brown and yellow (otherwise known as 'golden'), both of which can be eaten. Cold pressed flaxseed oil is also suitable for human consumption and is often taken as a supplement in capsule form.
Nutritional Properties of Flax

Brown and yellow flax seeds have similar nutritional values and are a good source of omega-3 essential fatty acids.
Chris Woollams, Former Oxford Biochemist and Rainbow Diet originator explains, "Oily fish are also a source of omega-3's, but there is a big difference. Those from fish are 'long-chain' omega-3's, whilst those from plants are 'short-chain'. The numerous expert research studies of John Vane and others have shown the benefits of long chain omega-3's in limiting inflammation, by calming Cox-2, and in preserving telomeres (important in longevity and cancer).
In the body there is about 12 per cent conversion from short to long-chain omega 3, that's all. But short-chain omega 3s have their own benefits. They tend to be oxygenating and the photo-estrogen content blocks nasty human oestradiol or xenoestrogens from cellular receptor sites. Also, your gut bacteria love the fibre in flaxseed. You should know that not all Flaxseed was created equal – there is a variety of yellow flax called solin, which provides relatively little omega-3. Omega-3 acids are also very important in maintaining a healthy diet as they reduce cholesterol, blood pressure and plaque formation in arteries. They tend to thin the blood slightly."
Besides providing omega-3s, flax seeds are an excellent source of cancer-fighting phytonutrients called lignans. Lignans also act as Prebiotics, feeding the populations of certain beneficial bacteria in the colon and stimulating the immune system. Populations with a high intake of phytonutrients have been found to have a lower incidence and mortality rate of breast, colon and prostate cancers. One such population is the Japanese, who typically consume a low-fat, high-fibre diet rich in isoflavonoids from soya beans and lignans from vegetables and grains. Studies linking flax consumption with a reduction in breast, colon and prostate cancers have been carried out and are summarised as follows:
Breast Cancer
Studies have shown that women with a history of breast cancer have significantly lower levels of the mammalian lignans enterodiol and enterolactone, which are made from the plant lignans secoisolariciresinol diglycoside (SDG) and matairesinol diglycoside (MDG) when flax seeds are consumed. In addition, lignans have been found to reduce levels of oestrogen, the lifetime exposure to which has strongly been linked with breast cancer.
Colon Cancer
Since the colon is the region where mammalian lignans are produced from plant lignans, a number of studies have been carried out to find out whether flax plays a role in the prevention of colon cancer. The tests have revealed that cell proliferation a precursor to tumour growth was significantly less likely when flax seeds were part of the diet.
Prostate Cancer
In a preliminary clinical study, 25 men with prostate cancer were each given 30g of flax a day for a month as part of a low-fat diet. At the end of the month it was found that prostate cancer cell proliferation had decreased, while cancer cell death had increased among these men as compared with a control group.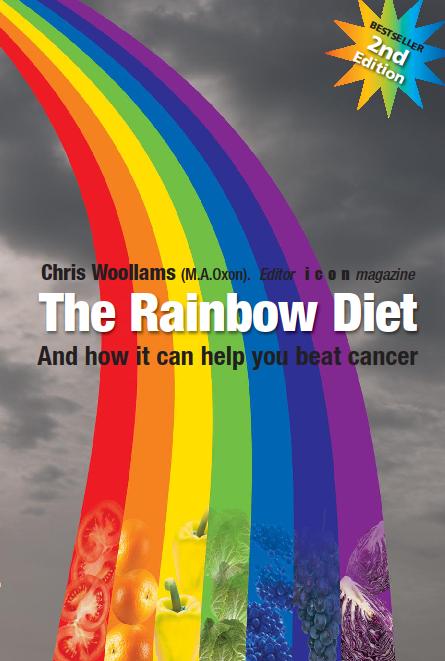 For more on the Rainbow Diet: Click here to read about it.

Cooking with Flaxseed
Flax is very versatile when it comes to cooking. You can do all of the following!
Caramelise ground flax, mixed nuts and malt barley extract for a great muesli topping
Dip chunks of fruit in a mixture of ground flax and desiccated coconut, then stick them on wooden skewer to make fruit kebabs
Mash an avocado and one tablespoon of ground flax to make a healthy sandwich spread
Add one tablespoon of ground flax to a hummus mixture for extra goodness
Sprinkle ground flax on a fruit salad or over fruit pures for a quick dessert
And why not try my recipes for Flaxseed Cookies and Flaxseed and Green Tea Muffins?
Rainbow Recipe – Flaxseed Cookies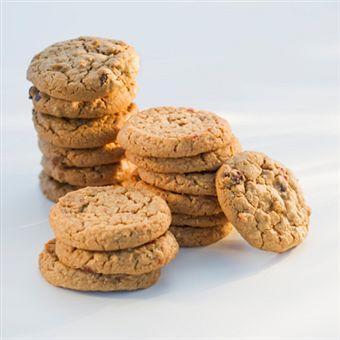 Ingredients
250g oats
110g wholemeal flour
50g ground flax seeds
50g raisins
50g cashew nuts
100g brown sugar
1 teaspoon ground cinnamon
teaspoon ground nutmeg
teaspoon ground ginger
teaspoon baking powder
200ml sunflower oil
200ml water or Oat Milk (other non-dairy milks are good, too)
Directions
Pre-heat the oven to 200C.
Mix the dry ingredients in a large bowl.
Add oil and mix.
Stir in water or milk to make a firm mixture.
Place heaped spoonfuls on a baking tray and then flatten.
Dust with extra ground flax.
Bake for 12-15 mins, then cool and serve.
Flaxseed Green Tea Muffins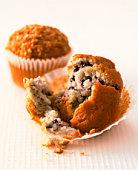 Ingredients
125g ground flaxseed
125g self-raising wholewheat flour
1 egg
50g brown sugar (optional)
2 tablespoons of soya yogurt
100g sunflower oil
1 tablespoon loose green tea (ground to powder in a coffee grinder)
1 tablespoon grated lemon zest
Directions
Pre-heat the oven to 190C.
Mix the yogurt and egg, then
Add the flour, flaxseed, sugar, green tea and lemon.
Spoon the mixture into muffin cups.
Bake for 15-20 minutes.
Go to:  The Mediterranean Diet – voted the best plant-based diet