The Rainbow Diet Recipe Book Rainbow Recipes from the Nutrichef and Chris Woollams
Click here go to : Rainbow Recipes
What do I eat if I have cancer? Preparing a diet for cancer used to be hard. Now it is not. With the Rainbow Diet, everybody can be clear
Steer clear of added glucose and refined carbs – eat whole carbs sparingly
Steer clear of cows dairy unless its from grass fed cows and is unpasteurised.
Eat good fats like extra virgin olive oil, fish oils, nut oils (walnut, almond) and nuts, seeds (pumpkin, sesame, sunflower, flaxseed), and avocados.
And eat a rainbow of colourful vegetables (and fruits) – Beetroot, curcumin, onions, garlic, greens, apricots, aubergines, red peppers, tomatoes, broccoli …..
Why? Because you will be FLOODING your body with nourishment and health, while avoiding the foods that make your body friendly to cancer and chronic illness.
And enjoy the lifestyle – aim for fresh air and sunshine (and if you cannot, you must supplement with vitamin D).
SEE MORE RAINBOW RECIPES – CLICK HERE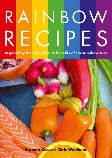 Click here to buy
The fact is that good cancer nutrition is not the same as eating when you are well. But obviously when you are ill, eating a nourishing diet is essential. If you feed your body junk, you will just end up with a junk body.
From time to time Barbara Cox, former head nutritionist and founder of the excellent Nutrichef, writes about cancer nutrition in icon magazine.
Here Barbara gives her personal views on rainbow recipes for your anti-cancer diet.
If you want to make your body truly friendly to health, and unfriendly to cancer what could possibly be better than consuming a rainbow diet of foods containing bioactive compounds KNOWN to have corrective and protective epigenetic benefits. Anthocyanins in the dark reds of beetroot, dark plums, aubergines, with carotenoids from red and yellow peppers, or polyphenols in green tea and curcumin. Then theres garlic, flaxseed, extra virgin olive oil and oily fish. The colourful Mediterranean Diet is so well researched and clearly health giving.
Before Christmas in 2013 Dr Aseem Malhotra (one of Britains top cardiologists) and eleven other such experts wrote to UK Prime Minister David Cameron saying "The evidence base for the colourful Mediterranean diet in preventing ALL of the chronic illnesses plaguing the Western World is overwhelming."
That statement from a group of Britains top doctors says it all.
Your cancer diet starts here
Barbara became passionate about the importance of eating healthily during an eight-year stay in Japan, a country renowned for its low levels of obesity, cancer and heart disease. Through her consultations with customers across the UK, Barbara advises people with a range of concerns, including people wishing to lose weight, athletes training for sports events or people who simply want to know what it means to eat healthily.
Barbara writes articles on health for various magazines and she is a major contributor to the recently-released book Motorsport Fitness Manual. Her efforts have been recognised by the business world, too, for she was voted the British Chamber of Commerce national winner of Entrepreneur of the Year.
After returning to England, Barbara set up her own company, Nutrichef, which delivers a healthy breakfast, lunch and dinner every day to customers homes. As well as being an expert on healthy food, Barbara is a keen fan of:

Chris Woollams and Barbara Cox co-authored the Rainbow Diet Recipe Book, Rainbow Recipes.